Community Sponsorships

Minichelli Dentistry has been a proud sponsor of many teams in our community over the years. Dr. Mark Minichelli was born and raised in this community and is raising his family here as well. His family has always been involved in athletics, so he knows how important it is to give back to the community.
A few of Minichelli Dentistry sponsored teams: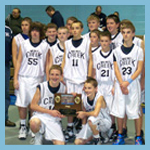 McDowell Boys Basketball
McDowell Girls Basketball
McDowell Softball
McDowell Hockey
Girard Girls Basketball
MYAA Teams and many more...